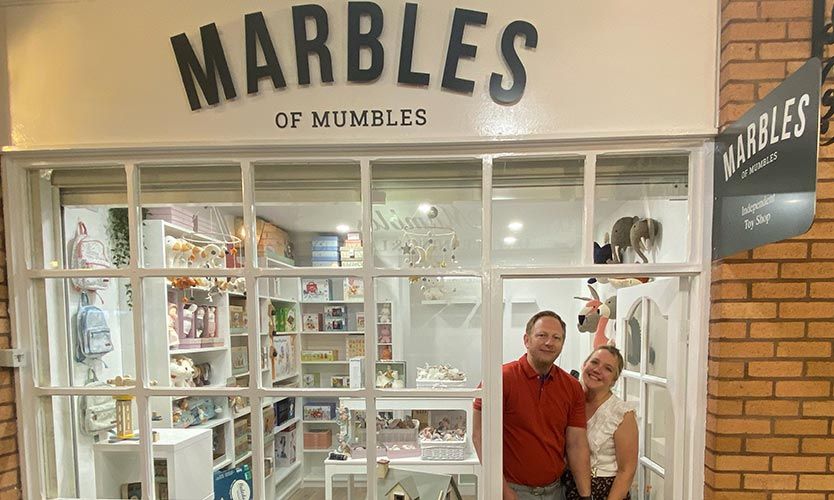 Welcome to Marbles of Mumbles, your go-to shop for sustainable toys that ignite young imaginations and support your little ones' growth!
As an independent, family-run toy shop based in the picturesque seaside village of Mumbles, Wales, we're committed to bringing you only the highest quality, sustainable, and imaginative playthings for children aged 5 and under.
At Marbles of Mumbles, we believe that toys are more than just a way to pass the time. They're beloved companions that become woven into the fabric of daily life, providing endless hours of creative exploration and learning. That's why we focus on materials that are kinder to the planet and can provide years of imaginative play.
Our hand-picked selection of wooden toys and soft toys are perfect for every setting where children love to have fun, from the comfort of their own homes to the great outdoors. Whether your little one is stacking blocks, building forts, or engaging in wild games and silly role-plays, they're developing their problem-solving skills, language abilities, dexterity, and emotional intelligence while having a blast.
We offer toys that excite and engage children at every age and stage of growth, so they can reach their full potential while being their unique, curious, and fun-loving selves.
At Marbles of Mumbles, we're more than just a toy shop - we're a community of parents, educators, and passionate believers in the power of play. Our founder, Susanne Roberts, is a proud mother of two and former primary school teacher who knows first-hand the value of open-ended toys that can evolve with your child's imagination. She created Marbles of Mumbles to make these toys available to little ones across Wales and the UK.
So come join our community and discover the joy of sustainable toys that spark young imaginations and support little ones' growth!